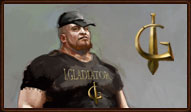 30.04.2013
Hey, GLADIATOR! Do you want to get a rare trophy which is worthy only of the best gladiators of the arena? REAL trophy! Berserker's head nailed to the wall? Gladius on your table for opening letters? Anatomy textbook for gladiators or Rufus's illustrated biography on your shelf? What are you willing to give your hard-earned money for?
Leave your suggestions on
our Facebook page
and we'll think about cool souvenirs worthy of a true warrior!